Post by gameboyadvanced on Nov 15, 2014 6:08:29 GMT
J.R.R. Tolkien's Lord of The Rings books have inspired movies and lots of games, none of them being too successful (video games not the movies) but in hope to create a game worthy of being played and enjoyed by orcs in Middle Earth as well as humans in our earth, Monolith Production working with Warner Brothers have created yet another Lord of the rings universe inspired game but, does it live up to the hype it was creating? Let's go to middle earth and find out.
Revenge and Rings
I will start off with the most promising part of the game that is story. You are Talion, a ranger who was killed with his family by Sauron's army but then he is awakened by a force named wraith and he is neither alive nor dead he is in middle world. Wraith is more of the more interesting character and even far more interesting than Talion. The story starts with Talion in its mind as he seeks revenge for the murder of his family but ends with Wraith, whose real name is Celebrimbor the greatest elven smith who constructed the seven rings, it turns out he is also stuck in this fearful world and teams with Talion in a tale of revenge and utter shock by near end (then turns everything is fine).
The story is perfectly constructed and stays true to Lord of The Rings as you encounter some of the most interesting characters from Lord of The Rings universe (I think we all know who we want to and will see, and no it's not Gandalf). Story doesn't take any jaw dropping turns and isn't anything new but the feel of stopping the most evil wizard in middle earth (Sauron) it is rewarding and the ending leaves things open for sequel.
We Are One
The first thing you will notice once you step in the game is how beautifully this game is constructed and how perfectly it depicts middle earth, from orcs torturing the slaves to orcs partying, it shows true nature of orcs as they can be the most interesting creature in middle earth to one of the most fearful one and as you progress through the game you will figure that out, sooner or later.
Also the thing you will notice is how many elements this game takes from other games such as Assassin's creed and Batman Arkham series. This is not a problem because this game perfectly implements features from both the games. It have the huge scale flawless climbing and free running (not as free as in Assassin's Creed series) and the amazing combat of Batman series. There have been games trying to implements these features into their own games but none of them have succeeded as Shadow of Mordor has. It takes the best from those games and combine it into one and the result in a fun experience. In beginning, I will be honest, I found it quite like Déjà vu. Been there, done that kind of thing but as I progressed through the game, I realized that the game is not at all have repetitive stuff I thought it to present there but rather, it was the opposite, the side mission that were present in the game also played a significant role in explaining the history of both Talion and Wraith and it didn't made these side mission boring but rather far more interesting because you never knew what reward is waiting for you when you finish them. Gameplay
As I said before, middle earth's gameplay is inspired from Batman series (which have awesome combat). Strike, counter and doge, these have been the crucial three elements of the combat which makes it so much fun alongside with so many other stuff in combat. Shadow of Mordor executes these elements perfectly and it might look a little easy in beginning, wait till you progress further, it will be more challenging and Strike, Counter and Doge won't be the only things keeping you alive. Upgrades are an essential part of shadow of mordor as you upgrade Talion, more powerful he becomes and sometimes in these kind of games, upgrades don't play a very significant role as the game becomes easy with the kind of combat it has to offer but the upgrades become necessary to fight with more powerful orcs, especially the warchiefs. You get your usual upgrades like streak increases with critical strike and when you reach streak of 8X your sword becomes more powerful and deals more damage but this is just the beginning. Later on, you get some more powerful upgrades like, Combat Drain, Multiple Executions, Shadow Kill (which is freaking awesome) and such all of them are useful and none of it feels like you won't use it sometime in your 14-40 hour playthrough. (Except one for me, where you send a shockwave in ground, I never used it much) To upgrade your abilities you need experience and power and to get those you have to kill enemies to get experience and to get power you need to kill captains.
You also utilize environment to finish off your enemies which proves to be a good option when being flooded with enemies and sometimes, it can be a life savor.
One problem I had with gameplay was with camera angles, when I was in confined space and did an stun attack then went to slice enemy with sword, camera zoomed in and I was unable to see the rest of the enemies beside me attacking me, this made me lost my kill streak (which was near 40), this happened everytime I did a stun attack, it was fine in open areas because the camera zoomed was not so much in as you would lose track of your enemies but it was frustrating in confined space.
Stealth is also occasionally good part of the game but is not the preferred play style for most of the game as you will find, relaying on stealth does not always gives you the most effective reward but is a nice addition to get you through an area without being noticed.
You are not always playing as Talion, you can go in the Wraith world which is like Eagle vision (From assassin's creed) it enables you to see from walls and figure out the intel and strength and weaknesses of captains and warchiefs and find some things related to side missions.
Aside from sword and dagger you also get a Bow (when you go into wraith world), which is a powerful weapon when you are trying to be quiet or when you're filled with rage and want everyone to burn.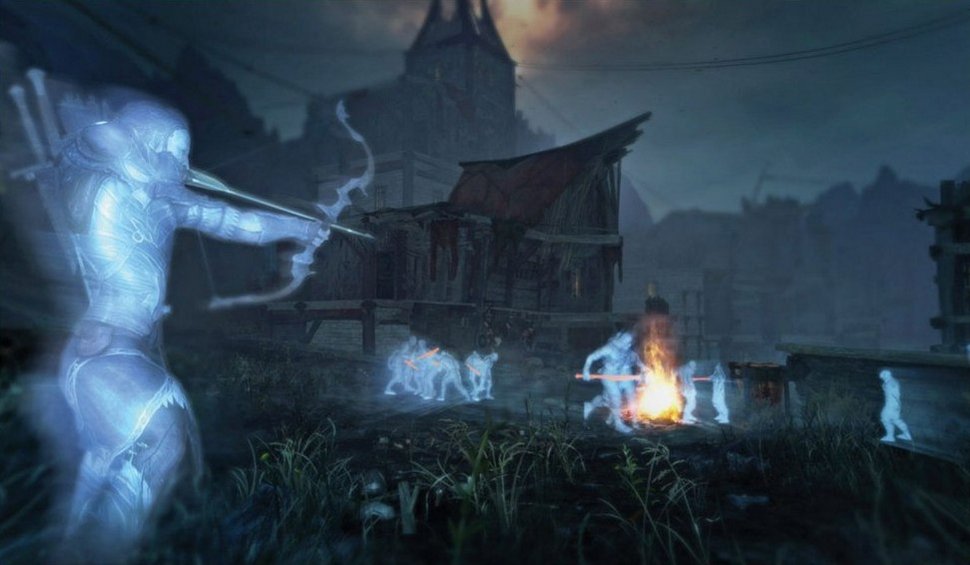 Nemesis System
This is the most striking thing about this game and literally the most innovative gameplay mechanic I have seen in quite few years.
You have to fight Sauron's army and like real army it is divided into Captains, Bodyguards of Warchiefs and Warchiefs. You have to fight captain to get power to upgrade yourself and to take control over middle earth but in doing so you trigger a more complex system. If a captain kills you, he gets promoted and move up in Captain Ranks and then he becomes bodyguard of one of the warchiefs and if he continue to rise in power by winning power struggles such as killing off other captains then he fights the warchief and tries to become one unless he gets sliced off. As Captain becomes more successful he gains more power and that's more for you to gain if you can manage to kill him. However killing captains isn't that easy. Captains have their strength and weakness and to find that weakness you have to find an Intel. (Which is an orc that have the information about the captain's strength or weakness) Then you capitalize on those weakness and finish them off but this is the hard way to get to warchief and kill him. More interesting way to interact with Nemesis System is to brand captain (making him yours) and help him rise in power and then make him a warchief which means the army will be under your control making middle earth yours. This is a really interesting idea which delivers well. Also if you get killed by a nobody then that orc will be on his road to become a captain and maybe a warchief, he will remember that he killed you and will be set as your revenge target and if you injure him and he retreats then next time you confront him, he will have the scars that you gave him.
All of this mumbo jumbo I said will be better explain when you actually jump into the game and play with Nemesis System yourself. There are plenty of ways you can interact with it and the freedom that is given to you is amazing.
Wrapping Up
+ Points

#great combat…fun, complicated yet simple at the same time.

#perfect depiction…it does justice to the Novels and movies.

#story…a tale of revenge driven by rage and shock.

#vast open world…it looks repetitive and confined in beginning but expands as you progress.

#lots of side missions to do…and all of them plays a significant role in story.

- Points

#camera angles…can be a bummer at plenty of times when camera excessively zooms in and make
you lose your hit streak.
Overall
Middle Earth Shadow of Mordor is the Lord of The Rings game gamers have been begging to play for a long time now. It's fast paced, fun, innovative and most of all it does justice to the series. It is a fun open world game where everything you do or happens to you matters (Nemesis system). It delivers whatever promises it made and is an amazing addition to Lord of The Rings franchise. In future when there will be mention of Lord of The Rings video games, I think Middle Earth Shadow of Mordor will be on top.

9/10